CDMD's First National Convention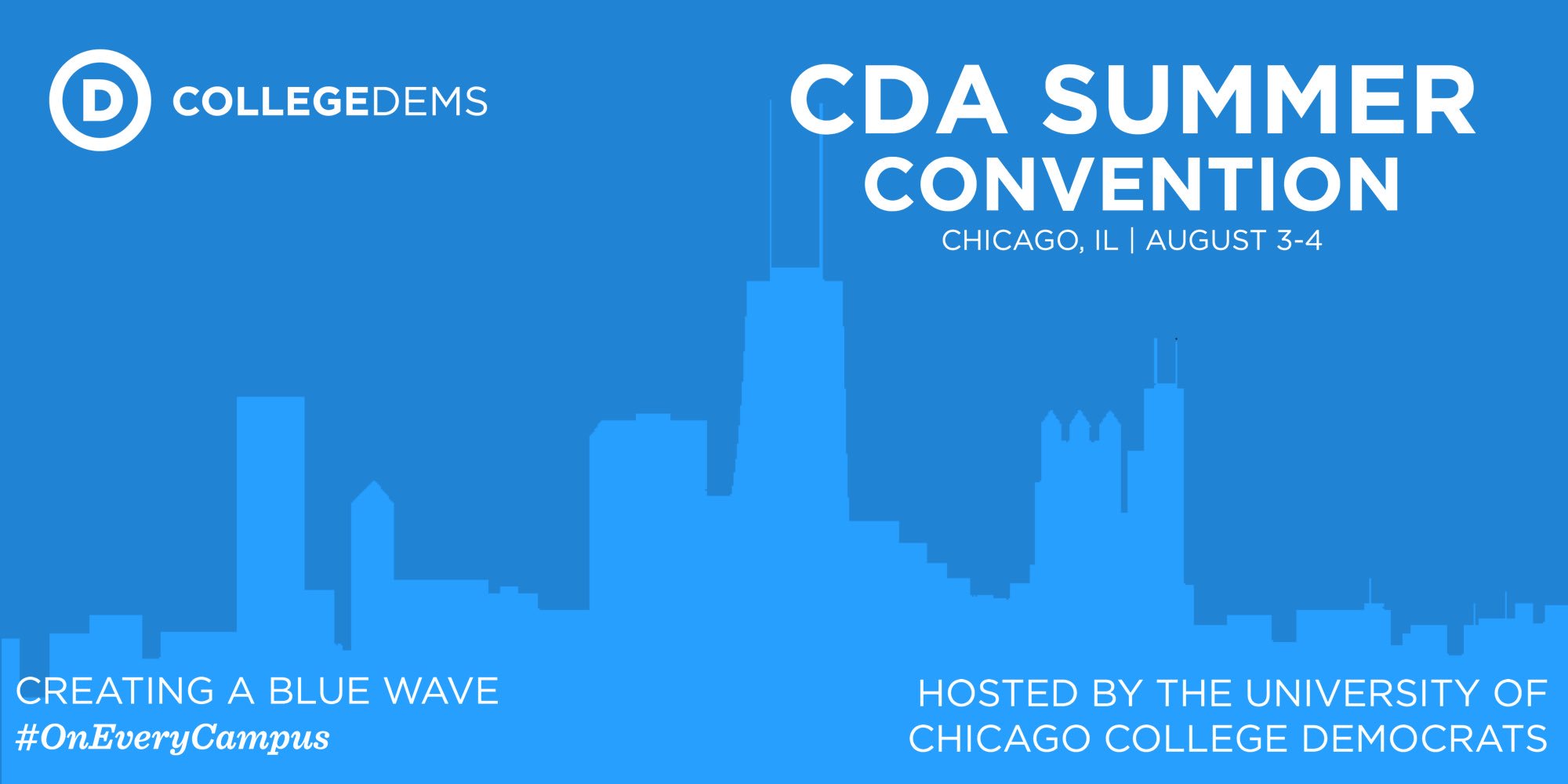 This past weekend I had the privilege to attend the 2018 College Democrats of America National Convention with other students from Maryland who represented Towson University, Salisbury University, and University of Maryland Baltimore County (UMBC). The Maryland delegation was attended by the College Democrats of Maryland President and Treasurer, as well as the UMBC President and Vice President. To my knowledge, this the first National Convention we have attended, and I am so happy we were able to make it. We had the opportunity to hear from incredible speakers about their vision for both the Democratic Party and College Democrats.
Overall, I had a fantastic time at the College Democrats of America National Convention and am glad I got to go before graduating. The College Democrats of Maryland will continue to attend future National Conventions and, hopefully, grow the number of chapters represented. We owe a huge thank you to the College Democrats of Illinois and the University of Chicago College Democrats for hosting the National Convention. A big thank you is also owed to the previous College Democrats of America Executive Board for all their hard work this past year and for putting on such a great Convention. I also want to extend congratulations to the newly elected College Democrats of America Executive Board as I look forward to working with you in the coming months as we work towards electing Democrats up and down the ticket.
The National Convention provided our federation with opportunity to spend time connecting with other College Democrats from across the country. I loved hearing all the different challenges, strategies, and stories that each state federation and chapter leader had. Being from a predominantly Democratic state, it was very interesting to hear the experience of Red State Democrats fighting for Democrats, such as Senator Heidi Heitkamp. I also found it incredibly valuable to hear outside perspective on some of the Maryland races that people had been following. These perspectives and stories will be incredibly valuable throughout 2018 and I look forward to keeping in touch with everyone throughout the election and beyond.
Over the course of the weekend we attended training sessions about various topics in order to better prepare ourselves as active citizens and campus leaders. These breakout sessions were very informative and allowed us to learn about various topics ranging from marketing and digital strategy to fundraising techniques. I want to work the Maryland Democratic Party and DNC to ensure we continue training college students in Maryland to prepare them for current and future campaign work.
Throughout all our conversations, trainings, and speeches the one thing that stuck out most to me was the relatively limited mention of President Trump. Of course, his ridiculous antics were not ignored, as it would be nearly impossible to ignore the colossal Russian elephant in the room, but he was not the focus. Instead, we focused on what we can do to get Democrats elected up and down the ballot. We had conversations about local races and what we can do to get involved. I could not be more excited to hear that.
Midterm elections are often viewed as a measure of the party in power, but Democrats are not the party of anger. We are most certainly fired up about issues coming from the White House but being angry isn't what our party is about. Democrats need to provide a positive message for voters to latch on to. We must show how our policies will be successful in making the lives of working people better. The National Convention focused almost exclusively on ways we can improve our message to truly reach out to voters and let them know we are fighting for them.
One of the other key aspects of the National Convention that left me fired up was talking about the future of the Democratic Party. Our generation truly is the future of our party and our country. We are all too familiar with being told we are "too young" or "too inexperienced" to do something. Countless speakers reminded us that being "too young" is no excuse to be overlooked. We heard from Jason Rae, the youngest ever DNC Officer, and Hadiya Afzal who is running for DuPage County Council at the age of 18. It was incredibly inspiring to hear their stories and be reminded that if you want a seat at the table, you have to take it.
Young people are the life blood of political campaigns. High school and college students volunteer and intern countless hours on campaigns at every level of government, from city council to presidential campaigns. Campaigns and Democratic Party officials should also be aware of just how much they rely on our generation and future generations. Party and campaign platforms should reflect the values and interests of our generation. If those platforms don't reflect our values and ideas, then it is upon us to change them by voting and running for office ourselves. President Obama understood the importance of the youth activism and on the 50th Anniversary of the Selma March, President Obama stated,

"It is you, the young and fearless at heart, the most diverse and educated generation in our history, who the nation is waiting to follow."
The 2018 National Convention was a fantastic opportunity to engage with likeminded individuals who are equally driven to fight for progressive values. With the most important election of our lives less than 100 days away, getting engaged is no longer an option; it is a necessity.
By Ryan Kirby
President, College Democrats of Maryland